Discover more from Coté's Wunderkammer
My newsletter is mostly software, cloud, DevOps, platform engineering stuff from a culture, process, & business angle. Also, the occasional travel and IRL talk, links & other fun found stuff.
Sometimes, you need start with the explanation and see what opinion fits
5 test taking tips. Also, now no need to hand over your email to get this free book I co-wrote on application modernization.
These 5 tactics are good for a 13 year old student or an adult knowledge worker
Here are the five test taking and essay test taking tips I shared with Cormac:
If you're doing the assignment in Google Docs, or whatever, of possible, copy and paste the questions into your document. This way, you have them right in front of you.

You don't have to answer the questions in order. On your first pass, just answer the ones you feel have an answer for. If you don't know an answer, immediately go the next question. Once you've answered all the questions you know, go back through and try to answer the questions you skipped.

If you don't like a particular question, feel free to come up with a slightly similar one and answer that instead. The goal is to write an answer that you can write, even if it's not exactly the right answer. A wrong answer is better than no answer.

When comes to asking what you think about a thing - "Did you like this book? Why or why not? Did this book give you a new perspective on horses? Explain." - you don't always have to write a completely "truthful" answer. If you have thoughts, write those. But if you don't have any thoughts, you can also make things up if it sounds normal. If you don't have a reaction to a book, for example, just imagine what another student — maybe one of the top students who always gets praised and has spoken in class a lot — would write, and pretend you're them. On a test, it's hard to have a wrong feeling or opinion, what matters is how you explain and back it up: whether or not it's your actual opinion or not. (You could also take from this that you should first come up with the explanation and then come up with your [made-up] opinion.)

It's totally fine to take notes while you're writing. Type in ideas you have, good and bad; outlines for answers; questions you have; memories. It's also good to immediately do a brain-dump when you sit down. If there were things you needed to memorize, write those down before you start. This way you won't forget them. Whether it's an outline, the name of a book and its author, or any other kind of note you might need, having these details handy can really help you when writing your essay. You can do this in your document or even on a piece of paper.
What they don't tell you in school is that a large part of school is learning how to do school. Most people also don't teach you that in much detail, let along make sure you know and re-teach you if needed. In school, first ask "how can I get a good enough grade?" and the do the actual learning. If you like learning, you'll be able to do a lot more of it, on the subjects you like, if you get good (enough) grades.
App Modernization for the Busy Little Executive: Escape the Legacy Trap. No lead-in free
I'm infamous for liking gated content: those "free" PDFs that you have to provide your email address for. What can I say, I like getting paid and like contributing to THE TOFU-FU-FU-FU-FUNNEL: always Be CTA'ing.
However, if you've been neglected to download Marc Zottner and my's excellent executive-ized overview of how to modernize a big portfolio of legacy applications, you can just download the thing,* all anonymous-like. No Johnny Leadgen required.
What I mean by "executive-ized" is that we try to explain the problem of legacy software, the urgency of addressing it, and to give a brief overview of how to put together a strategy, ongoing plan, and programs to address the problem: to escape the legacy trap. It's good for anyone, not just busy little executives.
It goes over the methodology Pivotal/Tanzu Labs has developed and perfected over ten years or so, the Swift methodology, originally kicked off by Shaun Anderson.
Check it out, I wrote it, so I can attest that it's good stuff, especially if you subscribe to this newsletter for the computer stuff. Check out my page on the legacy trap for more relevant links and recording of me presenting it.
* Of course, if you don't mind lead-gem'ing yourself, that option still exists and I'd be more jolly-like if you did :)
Relevant to your interests
Generative AI is just productivity software - "'AI will cut down people's workloads in many industries by as much as 50%' Which is a bit less hysterical. And also a bad headline."

Tyler says he spends about two hours a day in ChatGPT4…!

Docker's bad week - "more than 20 years working in and around open source, I've learned that often people get the most upset about things they haven't paid for."
Logoff
I did the trip from Brussels to Amsterdam today, presenting in the morning and then the afternoon. It actually worked!
As I send this, I haven't done the Amsterdam presentation yet, but I'm looking out the VMware Amsterdam office windows waiting my turn. Also, check out what I found in the offices.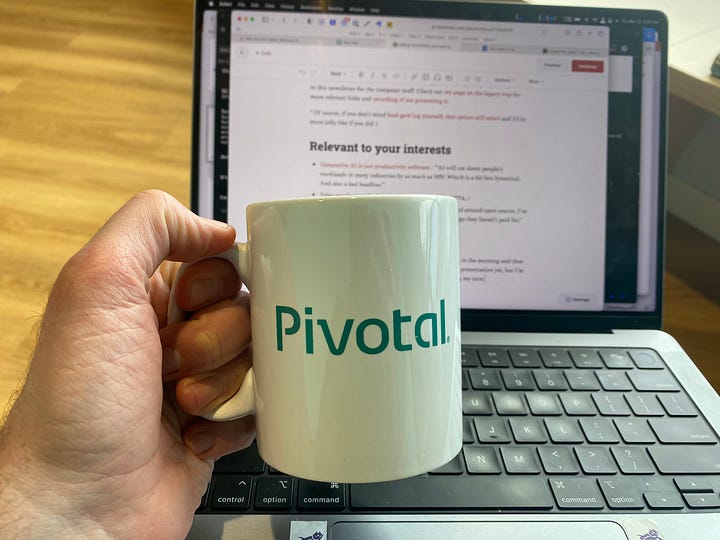 Good times! And still plenty of them.