Discover more from Coté's Wunderkammer
My newsletter is mostly software, cloud, DevOps, platform engineering stuff from a culture, process, & business angle. Also, the occasional travel and IRL talk, links & other fun found stuff.
"beads of sensation in a mundane world"
Programming Note
Never mind about that WordPress newsletter thing. I need to stick to a normal one, so here we are back here. If you are annoyed by thrashing about, I apologize. You should be able to unsubscribe here.
Notebook
Platform as a Product
This year I've ended up talking about platform as a product a lot. As I usually cover, I think this is because so many people are building out kubernetes setups and finding that they need to build a whole bunch of new layers on-top of kubernetes to make it useful for developer.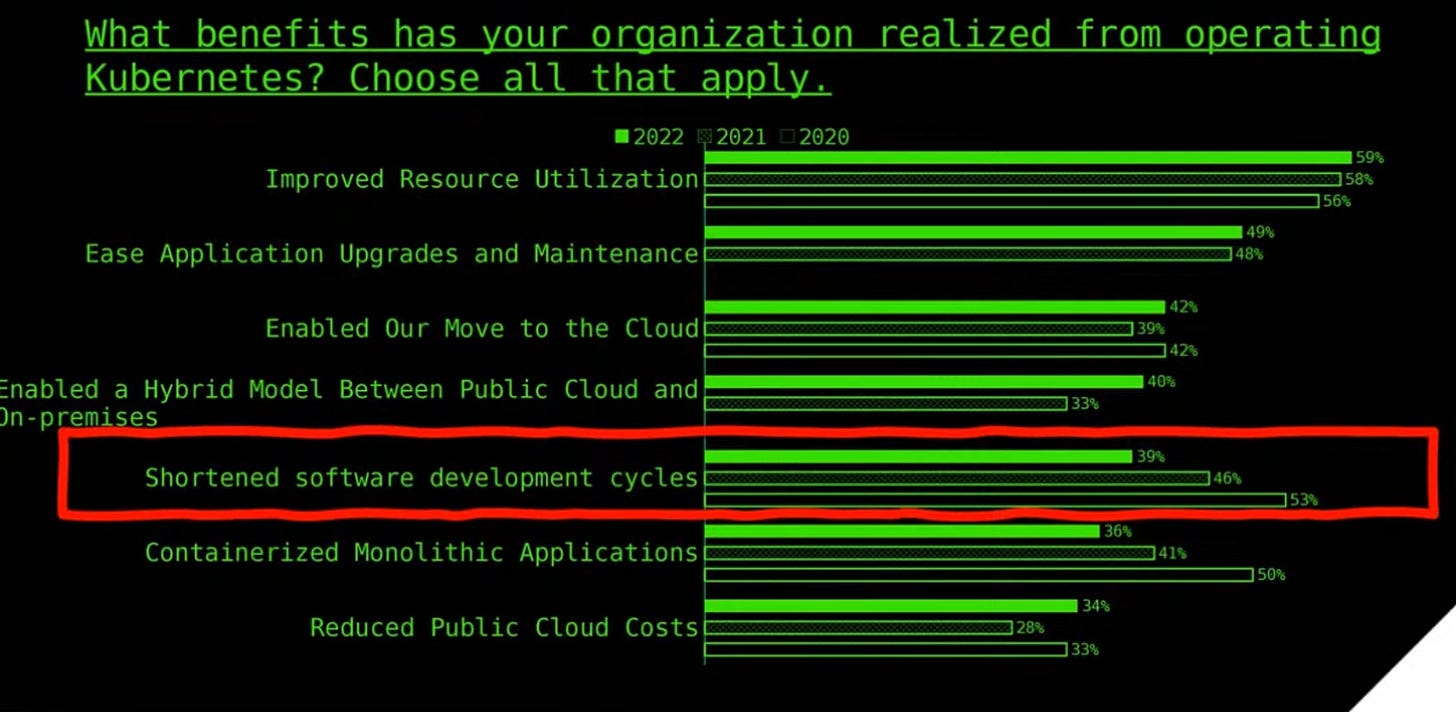 Unplanned, I've done two things in this topic this week: a webinar and an interview. The interview with Bryan Ross is great - he worked at Sky UK and so has first hand experience with putting the concept in place. As a bonus, we also discuss what the mismatch between finance and agile-think is.
Also, coincidently, there's a a Gartner blog post on the concept.
This concept has been around for a while now - it's been one of the key parts of Pivotal, now VMware Tanzu thinking. This means there are several examples from large organizations to learn from, and to prove out that it works. For example, check out this overview of how JP Morgan Chase does it.
What it looks like to work on a new-ish talk
I'm giving the first keynote at DevOpsDays Dallas (August 24th and 25th). Here's what it looks like when I plan a new-ish talk (same as just "new").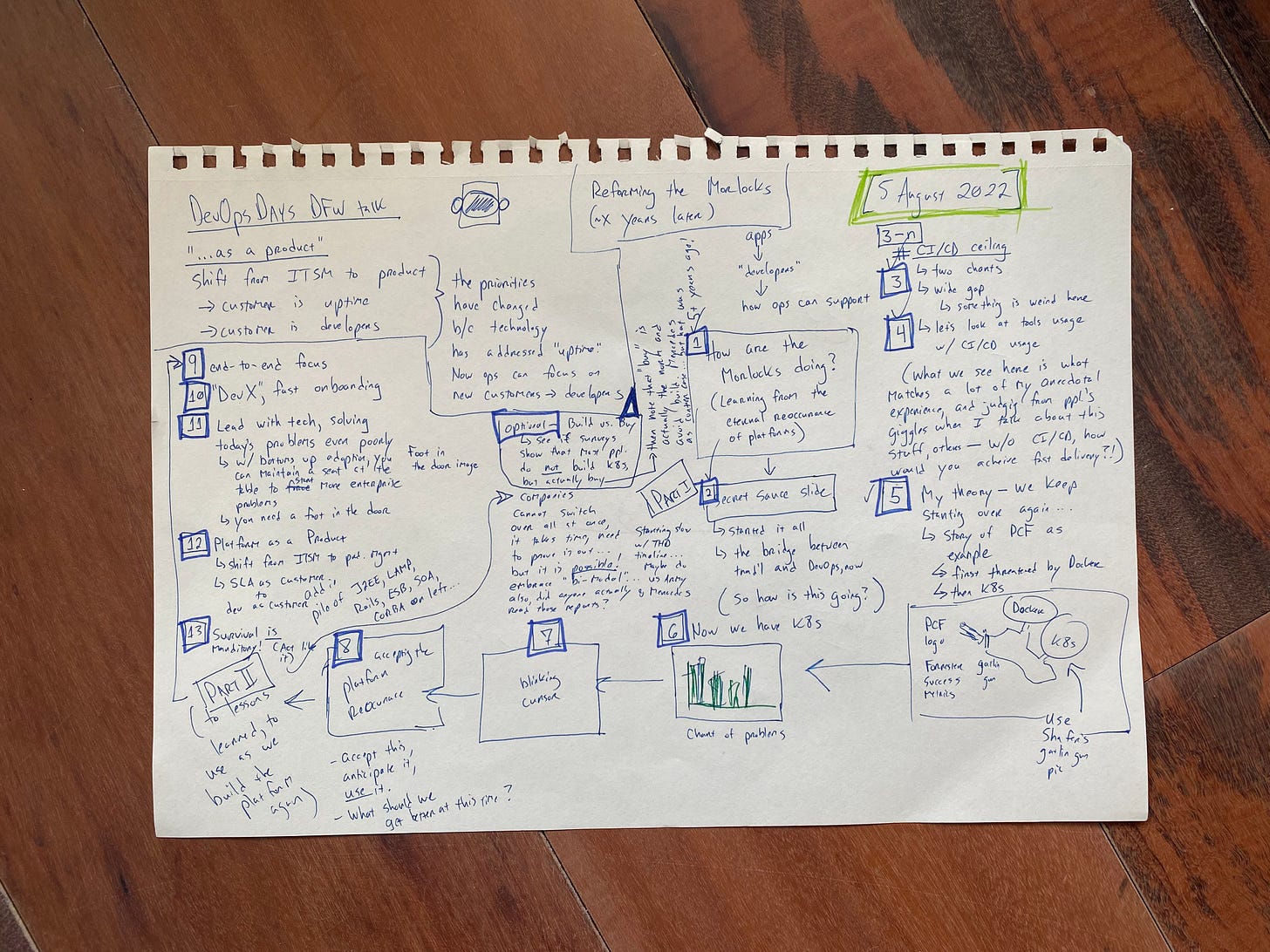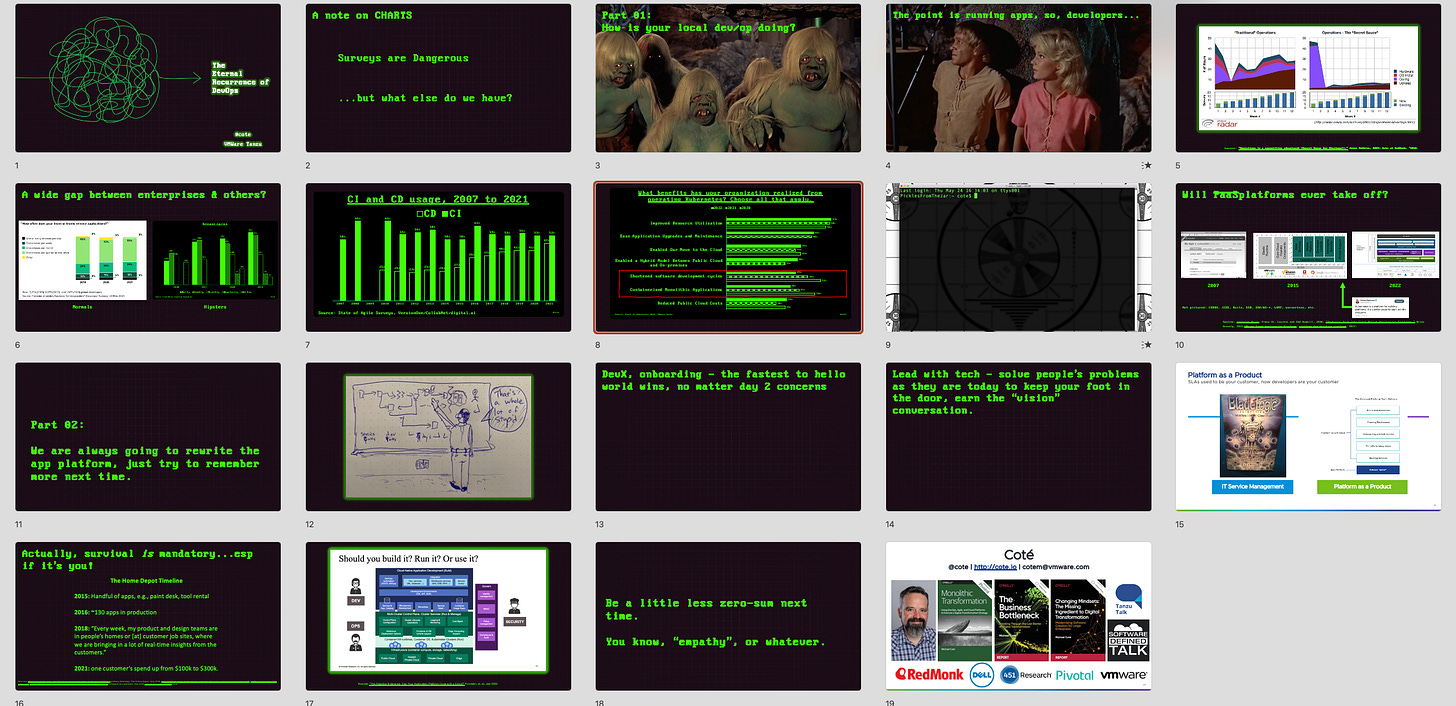 Relevant to Your Interests
Gartner on aligning buy-side people for big sales - Big sales deals require aligning all the different people at the buyer. With IT stuff, there's always conflicting priorities and desires across different groups. When they don't align, it drives 6+ months of delay to the sale. Worse, post-sale you'll have trouble showing value (leading to renewal, buying again, expansion) as those teams battle it out when it comes to using your stuff.

Making fun of Millennials online - "The way the quintessential Millennial behaves online is basically a bunch of silly little nuances strung together to create a personality that is very giddy and excitable about the normal or mundane."

"The sourball of every revolution…", for example: clean your desk, wash the dishes, clean the floor, change the baby's diaper, fix the fence, keep the customer happy, throw out the stinking garbage, watch out don't put things in your nose, what shall I wear, I have no sox, pay your bills, change sheets, go to the store… background.